Perhaps nothing is more daunting than walking into a classroom filled with your contemporaries waiting for you to teach them something "new" about sex. I am faced with this challenge almost daily in my work as a health educator. Finding new and creative ways to engage adults in topic surrounding human sexuality–without appearing condescending and/or boring can be both exhilarating and difficult. This is especially true when teaching in the realm of human sexuality, since many people express a discomfort with the subject matter. Once more, many of the adults I have worked with enter the education sessions with a litany of information about sex and sexuality. For both my participants and myself, trying to synthesize information that has been previously taught—some of which is extremely problematic, with new information is a challenge. While, it might be tempting to "wipe the slate clean", and only concentrate on new information; I've found that doing so only invalidates my participants prior experiences and does not contribute to learning. So this begs the question, what are some effective techniques to encourage knowledge synthesis among adults? I propose that one answer is the utilization of the Synectics Model.
What is the Synectics Model?
Besides having a cool name, the Synectics Model offers educators a great instructional framework for fostering creativity and critical thinking skills among students. Through the development of analogies, students are able to create both rational and emotional approaches to common and complex problems. With the use of metaphors, students make connections between what they already know and what they are learning. This allows students to explore new topics (which are seemingly more abstr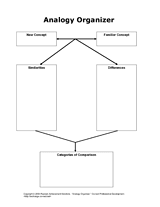 The Synectics model can be particularly useful when working with adult learners since it allows for the examination of complex concepts through critical thinking and solution building. For adult learners, the ability to solve both immediate and future problems is an invaluable skill. This is especially true when solving problems related to human sexuality, since sexuality is an influential part of adult life.
As stated earlier, adults often bring their own thoughts and beliefs into education sessions. Adults typically prefer drawing upon previous knowledge and experiences while simultaneously learning new information (Lieb, 1991). In situations where adults are students, the Synectics model helps reinforce previously held information, by relating said information to new concepts. For example, in a class addressing effective communication in romantic relationships, adult students will likely have a basic understanding of communication. However, many adult students may lack the ability to communicate sexual wants and desires (i.e. when to initiate sex, what sexual practices they are comfortable with, what protection to use etc.).To help adult students learn how to effectively communicate individual wants and desires related to sex, an instructor could use the Synectics model to help students build connections between general communication skills and communication regarding sex. An instructor may ask adult students to think about metaphors to help initiate critical thinking. An instructor may ask:act and/or difficult) with concepts that are familiar. 
Moreover, the Synectics model helps students examine new concepts on both the cognitive and affective level. The model includes three versions: making the familiar strange, making the strange familiar, and Synectics excursions.While they all have slightly different methodologies, all three help students make broad yet tangible connections (Estes, Mintz, Gunter, 2011). To give an example, an instructor looking to encourage effective condom negotiation skills among young mothers, might have participants create analogies between condom negotiation (a new concept) and dressing young children (a familiar concept). Young mothers would describe how the two concepts are similar and different (cognitive ability), and their feelings surrounding both concepts (affective ability). With assistance from the instructor, the young mothers would reexamine the original concept and create a new analogy to demonstrate understanding (synthesis).
How is communicating about sex similar to communicating about household chores? How is it different?
How is asking your partner to wear condoms like building a bookcase?
Pretend you and your partner don't speak the same language. What would it be like to explain the concept of boundaries to your partner in a language they don't understand?
As one might suspect, doing such an exercise can be challenging, since most adults come into learning situations with preconceived values and norms about communication and sex. This is exacerbated by the fact that not all cultural and social groups communicate in the same ways. For this reason, it is imperative that an instructor takes into account the various backgrounds and experiences of adult learners. To successfully implement sexuality programs for adults, it is important that instructors understand and utilize the transformative learning process.
The transformative learning process is most effective for creating programs for adults. Mezirow (1997) explains that transformative learning is the "process of effecting change in a frame of reference" (p.5). According to the transformative learning theory, frame of reference is composed of two parts: habits of mind and points of view. Both habits of mind (e.g. patterns of thinking and feeling) and points of view, are influenced by culture, social environments, economics, politics and more. Individual frames of reference greatly influence how we see the world and what we value. When left unchallenged, individual frames can hinder learning among participants. However, when properly examined, our frame of reference can encourage the synthesis of old and new ideas and skills. I argue that the Synectics model can be used as a tool in the transformative learning process. Through the encouragement of creative thinking, educators can influence change in participant's frames of reference. As Estes et al. (2011) states:
Synectics helps students find fresh ways of thinking about ideas and problems. Creativity is a learned behavior…Since metaphors are the language of creativity and creativity allows for the development of new conceptual structures, Synectics can play an important role in academic achievement and in the development of problem-solving and social skills (p. 166).
In terms of sexuality education, the utilization of the Synectics model can help adults challenge preconceived notions about sexual identity, orientation and behaviors. For example, in a program designed to address homophobia among professionals working with LBGT populations, an instructor may use the Synectics model to help cultivate empathy. To be specific, an instructor might develop an activity where professionals use metaphors to think about their client's experiences. This could be done in a myriad of ways such as creating narratives or doing role reversals.  For example an instructor may ask participants to:
Describe in less than 100 words, what it would be like to switch places with your client.
How is identifying as LBGT, similar to being an island? Describe that island? What do you think it would feel like to be that island?
Imagine a world where identifying as bisexual, lesbian or gay is considered the "norm" [i].  With a partner, pretend that you are a straight client. What are some challenges you might face?  How do you think this is similar or different from being a lesbian, gay or bisexual client in today's society?
Such an activity could help foster empathy among professionals, by encouraging them to think about different experiences.  Moreover because of the creative thinking process, the professionals may be more amenable to the new information being taught. By having the opportunity to bridge together previously held information with new information; learners are able to create more robust and inventive solutions to problems. In terms of sexuality education, having the ability to solve complex problems is paramount to the cultivation of a sexually healthy adult.
References
Estes, T. H., Mintz, S. L., & Gunter, M. A. (2011). Instruction: A Models Approach (6th Edition ed.). Boston: Pearson.
Lieb, S. (1991). Principles of adult learning. Informally published manuscript, South Mountain Community Coll, Phoenix, AR.
---
[i] The term "norm" is used purposefully to indicate the broader societal perception of sexual orientation.  It is not used to pathologize any sexual orientation.